Royal couple in Portadown to help Irwin's bakery celebrate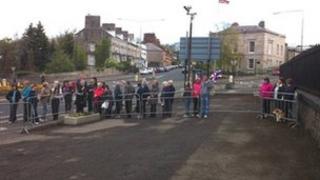 The Prince of Wales and the Duchess of Cornwall have visited Irwin's bakery in Portadown on the second day of their stay in Northern Ireland.
The royal couple helped the family bakery, now run by the third generation, celebrate its 100th birthday.
During the 90-minute visit they watched the making of farls and potato bread and spoke to staff.
The Duchess of Cornwall then cut a cake to celebrate the bakery's centenary.
The business has grown from its days of horse and cart delivery to now exporting branded products across the UK and Ireland with major supermarkets.
Accompanied by Brian and Niall Irwin, the couple visited the company's training room where they met company directors and their spouses.
Later they were given an overview of bakery operations.
The Prince of Wales unveiled a plaque to commemorate the visit and the royal couple signed the visitors book before they left.
The couple then travelled to Armagh where Prince Charles visited Armagh Gaol.
He arrived to loud cheers from the 100-strong crowd which had gathered outside.
Before going into the prison, the Prince of Wales walked around the crowd, stopping to stroke a Corgi dog that one woman, Hilda Oliver, had brought along.
Inside the former prison, he was told about plans to convert the historic building into a hotel and cultural space.