Teenage rampage for Cathedral Quarter arts festival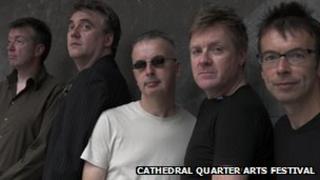 Most of the arts-related focus has been on the grand opening of the MAC theatre in recent weeks.
But the popular Cathedral Quarter arts festival has been quietly going about its business ensuring a lively line up to celebrate its 13th birthday in style.
Organisers have promised festival goers a real treat and have booked the Undertones to fit in with the Teenage Rampage theme for the 11-day-long event.
Despite funding for the event being at risk, organiser Joe Nawaz said:
"Obviously with the withdrawal of the Laganside funding it was difficult. But in true festival spirit we campaigned and got the funding back."
Over the 11 days, 160 acts have been booked to perform across 40 venues throughout Belfast.
"There is a real appetite for people coming into the city centre to be entertained, to soak up the atmosphere," said Mr Nawaz.
The eclectic mix of artists include rock legend John Cale of The Velvet Underground as well as Ardal O'Hanlon, best known for playing Father Dougal McGuire in hit television sitcom, Father Ted.
The festival runs from 3 May to 13 May.