Fr D'Arcy will continue to speak out on church issues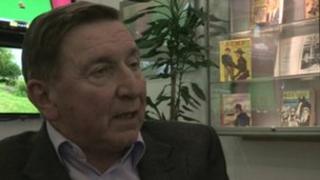 Father Brian D'Arcy has said he will continue to speak out on controversial issues affecting the Catholic Church despite being rebuked by the Vatican.
As a newspaper columnist and a broadcaster, Fr D'Arcy has been a vocal critic of church policy on clerical sex abuse, celibacy and contraception.
As part of the disciplinary action, he must now get prior approval to cover topics dealing with church doctrine.
But he said the church has not ordered him to change any of his work since.
Fr D'Arcy is one of Ireland's best known priests and has also worked in journalism for 45 years.
He is a regular contributor to the Sunday World newspaper and hosts a weekly music show on BBC Radio Ulster.
He also works for BBC Radio 2 and on Friday, the corporation said it had sole editorial control over contributions the priest makes to its Pause for Thought religious slot.
The action against the priest was taken last year by the Vatican's Congregation for the Doctrine of the Faith (CDF).
'Questioning'
Speaking at the BBC in Belfast on Friday, Fr D'Arcy said: "The major issue that I've been most vocal on is the way the church has handled - and is handling and is continuing to handle - clerical sex abuse of children.
"I have spoken just as plainly and openly about that, encouraging the church when it has needed encouragement and actually questioning the church when it has needed questioned."
"I have not changed nor will I be changed on that," he added.
Fr D'Arcy is based outside Enniskillen and said he had being "trying to work as normal" over the last 14 months, while under censure from CDF.
"I have tackled the same subjects that I always did, probably a little more broad - in a broad way - but certainly I have not been censored that I can't talk about certain issues in the way I've always done.
"I've censored myself, more than anybody else censoring me", he told BBC Newsline.
The action taken against Fr D'Arcy brings the number of Irish priests censured by Rome to six.