Robinson hails Maze conflict resolution centre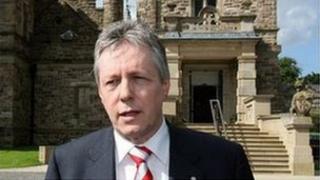 First Minister Peter Robinson has described the planned new conflict resolution centre on the site of the former Maze prison as a potential "mecca for tourists".
Mr Robinson was speaking on BBC Radio Ulster's Inside Politics programme.
He also said he does not intend to stand again as a candidate for East Belfast in any future Westminster election.
Mr Robinson said he was happy with the work he is doing as First Minister.
He said he regarded it as "a full-time post".
The DUP leader argued that it was more important for Northern Ireland that he should keep doing his job at Stormont rather than dividing his time at Westminster.
Mr Robinson said the seat had been "borrowed" not taken by Alliance's Naomi Long and that it would be won back by the DUP in the future.
The boundaries of the East Belfast seat are likely to change before the next Westminster election, with a provisional review proposing the constituency should expand into South Belfast.