Rebecca McKeown's grandparents at beside during death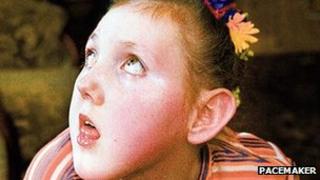 A couple accused of killing their granddaughter were at her bedside when she died, a court has been told.
David Johnston, 88, and his wife Sarah, 86, of Carwood Drive in Glengormley, deny charges of manslaughter and child cruelty following the death of Rebecca McKeown, 14, in March 2001.
Under cross-examination from a barrister representing Mr Johnston, Rebecca's mother, Cheryl, confirmed the accused had been present when Rebecca died in hospital.
Cheryl McKeown also said that in the days following Rebecca's death, social services imposed restrictions on Mr and Mrs Johnston.
They were not allowed to see any of Rebecca's three siblings without an adult present, the court heard.
The jury was shown a note which Mrs McKeown wrote to her father in late 2001, in which Mrs McKeown said she, her husband and their children should not have any contact with Mr and Mrs Johnston until the police had resolved the matter.
Rebecca, who was severely disabled, died after contracting pneumonia which, according to the prosecution, came as a direct result of a sexual assault.
The case continues.