Warrenpoint couple sentenced after £96k theft from widow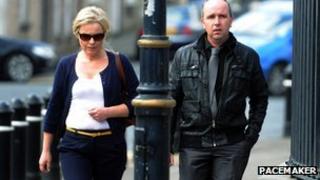 A Warrenpoint couple have been given a 12 month sentence suspended for three years after pleading guilty to the theft of nearly £100,000 from an 84-year-old widow with Alzheimer's.
James and Colleen McPolin of Dallan View in the town had pleaded guilty to two counts of theft against Beatrice Irvine.
They had taken her on two occasions to a building society in Newry.
She had handed over cheques for £46,000 and £50,000.
On the second occasion, staff got suspicious and called the police.
The McPolins took out a mortgage on their home to pay back what they stole from Mrs Irvine.
At their last court appearance they handed over a cheque to the court to cover what they had stolen.
The judge, Kevin Finnegan, said the court wished to ensure that the victim recovered her money so her remaining years were completed in as much comfort as possible.
He said he also wanted to ensure that the McPolins did not benefit financially from their crimes.
He said the actions of the McPolins had cast a heavy shadow over their own innocent children and parents.
He praised the staff at the Nationwide building society in Newry, the police and the prosecution.