Court hears Rebecca McKeown's stepfather took his life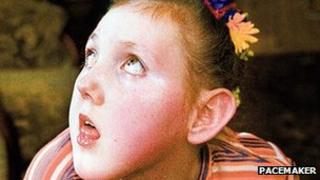 The stepfather of a disabled girl, who died following an alleged sexual assault by a grandparent, took his life four years ago, a court has heard.
The evidence emerged during the trial of David Johnston, 88, and his wife Sarah, 86, of Carwood Drive in Glengormley.
They deny the manslaughter of Rebecca McKeown, 14, in March 2001 and a further offence of child cruelty.
Rebecca's mother, Cheryl, said he had twice previously tried to kill himself.
Under cross-examination from a barrister representing Mrs Johnston, Cheryl told Belfast Crown Court her husband, Stephen, took his own life seven years after Rebecca's death.
Mrs McKeown confirmed there had been serious rows between Stephen and her son, Stuart.
She said this had started after Stephen had suffered a stroke in 2002. She said the stroke had left Stephen with "mental problems" and his personality had changed.
Mrs McKeown was also questioned about a statement she made to a social worker in March 2001.
The defence barrister put it to Mrs McKeown that she "felt something had happened" to Rebecca when Rebecca was examined by a locum doctor at her home, before she was admitted to hospital.
Mrs McKeown confirmed this was the case at the time she made the statement to the social worker.
She said Rebecca was not distressed before the examination, but cried out in pain during it.
Rebecca, who was severely disabled, died after contracting pneumonia which, according to the prosecution, came as a direct result of a sexual assault.