Cost of driving licences to increase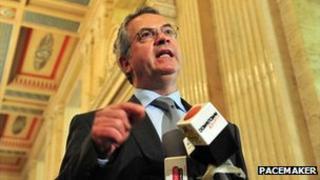 The cost of getting a driving licence in Northern Ireland is set to rise by between 25% and 60%.
The fee for a provisional licence is set to increase from £50 to £62.50, while renewing or replacing a licence will cost £30 instead of £20.
Drivers applying for a licence after a disqualification will face higher increases of up to 60%.
Proposals for the fee rises were announced by the environment minister, Alex Attwood.
There are no plans to introduce charges for medically restricted licences, licences issued when a driver changes name or address or for licences issued to drivers over 70 years of age. These are currently free.
However, the fees for licences issued after a driver has their licence revoked or is disqualified would increase from £50 and £65 to £80 and £104 respectively.
The fee for the reissue of a licence to a high risk offender will also increase by 60% to £144.
The proposed rises are out for consultation, but are due to come into effect in October 2012.
There are around 1.3m driving licence holders in Northern Ireland.
It currently costs around £2.5m pounds more for the department to administer driving licences here than the income they receive in fees.
Under the current fees, driver licensing income for 2012-13 is estimated to be £3.17m whereas expenditure is estimated to be £5.62m.
The consultation period on the proposed rises ends on 14 May.