Northern Ireland death penalty appeal to go ahead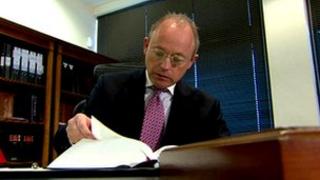 The Director of Public Prosecutions has said he will not oppose an appeal against conviction by the last man sentenced to death in Northern Ireland.
Senior judges were told DPP Barra McGrory took the decision after reviewing confidential evidence in the case of Liam Holden.
Holden, from Ballymurphy, west Belfast, was sentenced to hang for the murder of Private Frank Bell 40 years ago.
The sentence was later commuted to life.
He served 17 years in jail before applying to an independent body set up to examine alleged miscarriages of justice.
The Criminal Cases Review Commission (CCRC) referred his conviction back to the Court of Appeal on the basis that it may have been unsafe.
The move followed an examination of previously unseen secret evidence and the admissibility and reliability of confessions.
Senior counsel for the DPP confirmed on Friday that the challenge would not be resisted.
Gerald Simpson QC told the Court of Appeal that the decision was based on material within the CCRC's confidential annex which was not made available to the head of prosecutions at the time Holden went on trial.
The QC said that if it had been disclosed it may have led to a different outcome on the admissibility of an incriminating statement, he said.
"The director has concluded it would not be appropriate to oppose this appeal," he said.
A further hearing will still be required to determine whether the murder conviction should be quashed.
Counsel for Holden stressed that he has instructions to pursue wider grounds over claims that the military used waterboarding techniques on him.
The alleged method is believed to have involved a towel being placed on his face before water was poured over it to give the impression he was drowning.
Lord Chief Justice Sir Declan Morgan listed the case for a further hearing in June to decide whether to examine the claims further.
Outside the court Mr Holden's solicitor Patricia Coyle, of Harte Coyle Collins, said her client had protested his innocence for almost 40 years.
"However, despite this welcome indication from the Public Prosecution Service he may pursue the allegations of water torture first made by him in evidence at the trial in 1973," she said.
Ms Coyle disclosed that an application has been made to admit new evidence from Guardian newspaper journalist Ian Cobain, who has extensively researched the use of waterboarding techniques.
She added: "This issue remains live before the Court of Appeal."