Derry City Council says overloaded black bins will be refused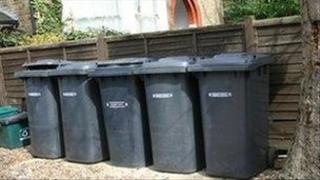 Derry City Council has confirmed that from this July overloaded black bins will no longer be collected by the refuse service.
Bins found to be too heavy or without a fully closed lid will not be picked up,
The council said the policy was because of health and safety concerns.
Shaun Gallagher, chairman of the council's environmental services committee, said the use of blue recycling bins should mean less waste goes into black bins.
"A really heavy bin going up the hydraulics at the back of a bin lorry has the potential to flip off," he said.
"It can flip off on to a council employee or a member of the public."