Tributes at funeral of murder victim Bertie Acheson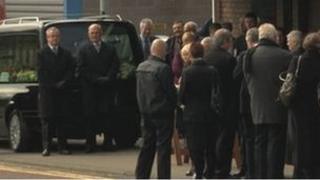 Mourners at the funeral of Bertie Acheson have heard him described as a devoted, decent man who was also a "defender".
The 72 year old died from a heart attack after confronting a burglar at his home in Coleraine on Monday.
Police have said it was brought on by stress and are treating it as murder.
Rev Hugh Mullan, who conducted the funeral service, said there was "great fear" in the community because the intruder was still at large.
The minister told mourners that Mr Acheson's family "is not bitter" but want the man responsible to give himself up.
He said the people of Coleraine were "obviously devastated" and still in shock at the circumstances of the pensioner's death.
Mr Acheson's family and friends were joined at the service by MLAs from the area and the MP for East Londonderry, Gregory Campbell.
Rev Mullan said: "The community is fearful. The community, church, friends are all at one at this time.
"Obviously there is a great fear while this person remains at large, they certainly want him apprehended."
After the service the pensioner was buried at Second Dunboe Presbyterian Church Cemetery.
He was the main carer for his wife, Sheila, who is disabled.
She was threatened by the intruder who stole her purse during the burglary.
Police investigating Mr Acheson's death have received a number of calls to an inquiry line.
They said a number of other leads are also being followed.