Victoria girl wins All-Ireland volunteering gold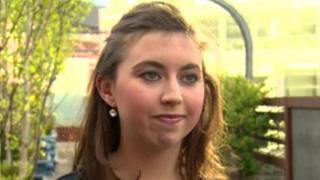 A student from Victoria College, Belfast, has become the 2012 All-Ireland Youth Volunteer of the Year.
Molly Gilmartin, 18, was honoured for her dedication to Action Cancer over the past six years.
She raised thousands of pounds for the charity and organised a concert in December 2010 which brought in more than £12,000.
It is now an annual Action Cancer event in Belfast.
In January 2011, Molly travelled to India through the Global Schools Partnership and spent a week working with children in a school in Dehra Dun. She also spoke at the World Educational Conference in Delhi.
"As you get more and more involved with a charity, then you get more passionate for its cause," she said.
"It is so rewarding to work really hard for a charity when you really believe in the cause.
"When I started volunteering it was for the Bronze Duke of Edinburgh and it was just one hour a week. It is not difficult and it is really rewarding."
Molly and Bonnie Shortall, a student at St Louis High School, Rathmines, Dublin, were both rewarded for their outstanding charity work.
They were honoured at a ceremony in Londonderry and each received engraved gold medallions, 1,000 euros for charities of their choice.
They will aso go on an all-expenses paid trip to the United States in May when they will join other top youth volunteers from several countries at the Prudential Spirit of Community Awards ceremony in Washington, DC.
Pramerica Systems Ireland sponsors the Pramerica Spirit of Community programme in partnership with the National Association of Principals and Deputy Principals (NAPD) and the General Teaching Council for Northern Ireland (GTCNI).
The programme, introduced six years ago, encourages young people throughout Ireland to volunteer, and identifies and rewards young role models.