Three arrested after man goes missing in River Bann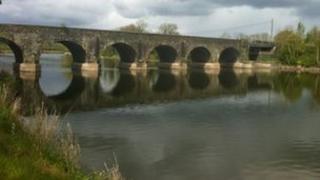 Three men have been arrested by police investigating the disappearance of a 21 year old man who went missing in the River Bann in County Londonderry.
Rescue teams are searching the Bann close to Kilrea after reports that the man got into difficulty in the water at 18:00 BST on Saturday.
It is understood police do not believe this was a suicide attempt.
The search resumed on Sunday morning and the family of the man, who is from the Ballymena area, are present.
Three men, aged 25, 26 and 30, are being questioned.
An eye witness saw the man go into the water close to the Bann Road Bridge.
Rescue teams began searching on Saturday night and about 40 volunteers helped. On Sunday, small boats were launched on the river as the hunt for the man continued.
Sean McCarry from the Community Rescue Service said canoeists saw the man struggling and raised the alarm.
"We are now conducting a major search," he said.
Mr McCarry said that he understood that an attempt had been made to rescue the man, but it failed.
"Somebody tried to help him but had to go back to the bank," he said.
"We now have four teams at the river - community service boats and crews are on the river."
Police have appealed for witnesses to come forward.