O Cuiv say he will remain in Fianna Fail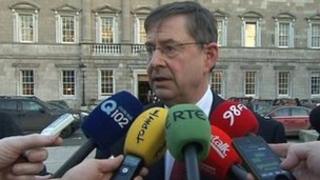 Former Fianna Fail deputy leader Eamon O Cuiv says he will stay in the party.
He said he would continue to work within the party to achieve change.
Mr O Cuiv said he saw no party other than Fianna Fail to represent his views.
He said as a result of his decision, he would not make any further comment on the fiscal treaty referendum.
He said joining a badly designed monetary union had cost Ireland.
The weekend events in France and Greece showed the people of Europe do not agree that there is only one way forward, he said.
Mr O Cuiv had received a letter from party whip Sean O Fearghail asking him to refrain from media interviews campaigning for a No vote in the fiscal treaty referendum.
In February, the former minister said that he would be voting against the treaty and resigned as the party's deputy leader and communications spokesperson.