160 prison officers leave service in Northern Ireland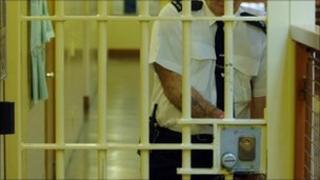 One hundred and sixty prison officers in Northern Ireland have already left the service as part of the voluntary early retirement scheme.
The figure was revealed by the Justice Minister, David Ford, during questions in the assembly on Tuesday.
The departure of another 139 prison officers has been delayed for operational reasons.
Applications from the remaining 245 who volunteered for redundancy are under consideration.
In March, it emerged that none of the prison officers leaving the prison service under the early exit scheme had applied to be re-employed.
There had been 5,000 applicants for 200 custody officer jobs but none by those taking early retirement.
The redundancy scheme has been introduced for officers aged over 50. Many qualify for a lump sum payment of more than £100,000, plus an annual pension of £18,500.
The redundancy scheme and recruitment of new staff are key parts of a fundamental programme of reforms for a prison service that has been widely criticised in recent years.