Vatican 'miserably failed' abuse victims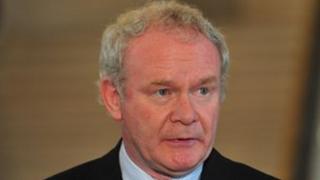 Deputy First Minister Martin McGuinness has accused the Vatican of "miserably failing" the victims of child sexual abuse.
He said the failings of Rome were a greater issue than the position of Cardinal Sean Brady.
Mr McGuinness told the Assembly that he loved the Catholic church but that Catholics throughout Ireland were "dismayed and angry".
The cardinal is accused of failing to act over abuse allegations in 1975.
A BBC documentary revealed that the then Fr Brady had been told by a 14-year-old victim of paedophile Fr Brendan Smyth of his own experience and that of others.
Fr Brady told his bishop but did not tell the police or the parents of victims or potential victims.
TUV MLA Jim Allister accused the justice minister of "dodging the issue of reporting to the Assembly as to the extent and nature of any police investigation" into revelations in the programme.
Mr Allister said he would be writing to the police to ask if the Operation Charwell investigation into abuse extends only to institutional abuse, or whether it will include all clerical abuse. He also called on the BBC to confirm it would "fully co-operate with any police investigation."