Double glazing scheme put on hold by Nelson McCausland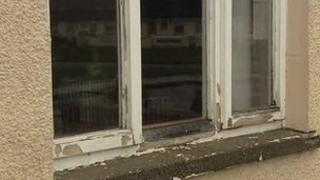 The social development minister has said he is putting on hold most new schemes to double glaze Housing Executive properties because they are too expensive.
Stormont ministers had pledged to carry out the improvements in their programme for government last year.
It is understood 30,000 homes need the work.
However, Nelson McCausland said he was concerned about the expense of the contracts completed so far.
"My concern is that the current process used by the Housing Executive contractors is extremely and unnecessarily expensive," he said.
"It involves the removal of plaster around the windows, replastering, damage to tenants' decoration, with a resultant redecoration grant, and a form of hinges they use that cost five times the industry standard hinges.
"For all these reasons it's well worth looking at, because a substantial amount of money could be saved on the figure previously quoted by the executive."
Sinn Fein assembly member Alex Maskey, who is a member of Stormont's regional development committee, said: "The minister must make sure all public contracts are value for money but it is also crucial that there is no delay in these schemes.
"The double-glazing of these homes is not only about ensuring people have good standards of housing and reducing the effect of fuel poverty, but also about creating employment in the building trade.
"There should be no cutting of corners when it comes to this work as people are entitled to the highest standards of housing.
"This is an important part of the Programme for Government and there must be no undue delay in its implementation."