Northern Ireland Clinton Cards stores affected by administration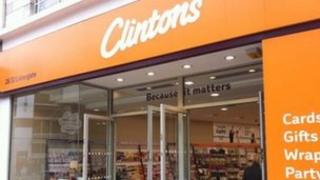 Clinton Cards, which operates 30 stores in Northern Ireland, has gone into administration.
The company, which also owns the Birthday's chain, is the biggest card retailer in the UK, employing more than 8,000 people.
The group has 30 stores operating under the two names in Northern Ireland.
The move comes after Clintons' largest supplier took steps to begin the administration process earlier on Wednesday.
Clinton had already asked for trading in its shares to be suspended before the administration announcement.
It said two of its banks sold £35m of loans to supplier American Greetings.
While the banks had waived certain conditions for the loans, American Greetings had pressed for repayments that Clinton Cards could not meet.
Founded in 1968, it is the UK's biggest card retailer, operating 628 Clinton shops and 139 Birthdays stores and employing more than 8,000 staff.
In March, Clinton reported a loss of £3.7m for the six months to the end of January and said the outlook for 2012 was worse than previously thought.
On Wednesday, it said like-for-like sales, which strip out the impact of sales from shops opened or closed in the past year, fell 3.5% in the past 14 weeks compared with a year earlier.