River Foyle wreck is outcrop of rock says Alex Attwood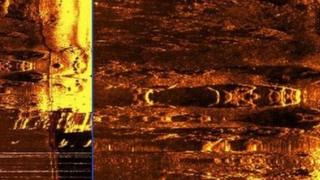 A mystery object in the River Foyle which was thought could have been a submarine or U-boat is actually a rock outcrop with debris around it.
Environment Minister Alex Attwood said this was the conclusion of divers who inspected the site last week.
He said due to poor visibility much of the search was conducted by finger-tip.
"Unfortunately, I have to again confirm that the thrilling possibility of a significant wreck has not been realised," Mr Attwood said.
"The dive has concluded that there is a seam or ridge of bedrock/rock outcrop on the riverbed, around which there is various debris.
"There is no photograph to confirm this due to poor water quality - but diver and the sonar images lead to the conclusion that there is nothing of significance on the bed of the lough at this point."
Some people had speculated that the wreck could be a German U-boat, as at the end of the war, Nazi submarines surrendered in the Foyle from where they were taken out to sea and destroyed or sunk.
Others believed it was unlikely to be a full-sized submarine, suggesting it could be a British two-man mini submarine - known as an X craft.
Another theory was that it could have been a small boat or even a private yacht, as one is known to have sunk in the area many years ago.