The Ballyclare 'invincibles'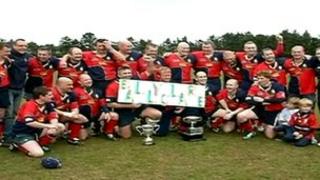 To go through a sporting competition unbeaten takes something special.
To go through a season and win every single game, in every competition you play in, is even more rare.
Ballyclare rugby club's 4th XV scored over 1000 points as they won all 20 league games before going on to pick up another two pieces of silverware.
They started the season with high hopes of winning something, but no one could have predicted how good their season would be.
"We tried to put a team together this year to go and win a trophy. To come back with three, a treble, we're absolutely delighted," said captain, Neil Reyolds.
Having reached this unprecedented level of success, many of the more mature members of the team have decided to hang up their boots.
In fact, 10 out the starting 15 have called time on long and colourful careers in the lower echelons of Ulster club rugby.
'Burnt socks'
When asked if he thinks they will ever have a season like this again Neil said:
"I don't think so. A lof of the guys have grown up together playing 1st XV rugby at Ballyclare.
"There were maybe a few pairs of boots and socks burnt last weekend after the cup final at Ravenhill. Fair play to them. They've been there and done it and what a way to go out!"
And with the season over and the 'serious' rugby out of the way, this hardy band of men will travel to watch Ulster play in the Heineken Cup Final.
"It's the end of season tour and the majority of the squad are going over to Twickenham.
"We're going over on the Friday night so we could be a wee bit worse for wear on Saturday, but fingers crossed you'll hear and see plenty of people from Ballyclare," said Neil Reynolds.