Judgement reserved in Sean Quinn contempt case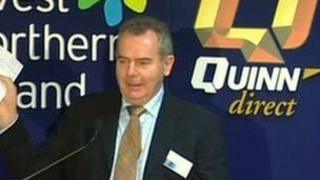 A court case which could see the former Fermanagh billionaire Sean Quinn sent to jail has ended in Dublin.
The former Anglo-Irish Bank - now called the Irish Bank Resolution Corporation (IBRC) - is suing the bankrupt businessman, his son, Sean junior, and nephew, Peter Darragh Quinn, for contempt of court.
The bank wants to seize properties to help settle Mr Quinn's debts of almost £2bn.
Judgement was reserved on Tuesday.
IBRC has claimed the Quinns breached court orders issued in June and July last year which banned them from moving some of their property assets beyond the bank's control.
'Untrue evidence'
The three vigorously deny that charge but admit taking steps in Russia and Ukraine to put some of their properties beyond the bank's reach, "before" last year's court orders.
During the proceedings Sean Quinn at one stage fought back tears as he accused Ango Irish Bank of ruining him.
Mr Quinn has in the past admitted greed caused him to invest in the bank.
The IBRC is pursuing the Quinns in a number of jurisdictions.
Summing up in the High Court in Dublin on Tuesday, counsel for the IBRC, Paul Gallagher, a former Irish attorney general, accused the Quinns of "giving false, inaccurate, misleading and untrue evidence" in the case.
He said they had "shown a willingness to pervert the course of justice and a willingness to use the court's proceedings for their own purposes".
Judge Elizabeth Dunne reserved judgement until after the new law term begins. It starts on 6 June.