'Last Balmoral Show at King's Hall' is under way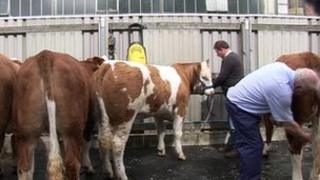 What is expected to be the last Balmoral show at the King's Hall site is under way.
The agricultural show has been at the showgrounds in south Belfast for more than 100 years.
Royal Ulster Agricultural Society members are expected to vote next month to move the show to the site of the former Maze prison near Lisburn.
The society's chief executive, Colin McDonald, said the move would help secure the future of the show.
"I think the RUAS could pump prime a development which would suit the whole of the Northern Ireland economy," he said.
"We can see jobs being created here and there, we can see eventually an international exhibition facility. Ireland hasn't got one and there's a huge market for one.
"Tie that in with the synergies of tourism and sport that we've got, the possibilities are literally endless."