14-year-old schoolboy convicted of raping 5-year-old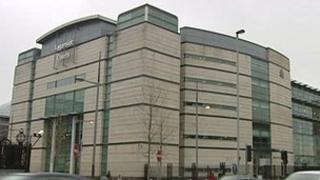 A teenage schoolboy has been found guilty of raping and sexually abusing a five-year-old boy.
At Belfast Crown Court on Tuesday, a jury convicted the 14-year-old of raping the child and one count of sexually assaulting him.
Neither the teenager nor his victim can be identified for legal reasons.
The jury also acquitted the 14-year-old of three further charges of rape and three of sexual assault by majority verdicts. He was released on bail.
During the week-long hearing, the court heard the victim testify on videolink that the teenager had abused him while they shared a room together.
The child referred to the 14-year-old as his "big cousin", although they are not related.
In giving evidence on his own behalf, the teenager claimed nothing had happened between them.
Following the convictions, the recorder of Belfast, judge Tom Burgess, listed the case for mention on Friday 25 May to ascertain the best way forward to deal with the case.