Stormont MLAs are told Translink is "run very well"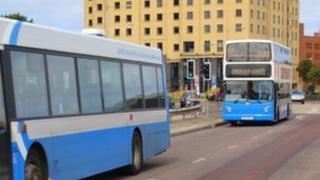 There is "no evidence of poor financial management" at Translink, Stormont MLAs have been told.
The bus and rail service provider, which raised fares by 3% last month, is facing big cuts in its public funding.
Senior management at Translink were questioned by the Regional Development Committee on Wednesday about the company's budget and projected deficit.
Chief executive Catherine Mason said it was neither failing nor asking for more money than it is currently given.
Last month, it was revealed that Translink expects to move into the red after this financial year.
Its budget could be reduced by £25m over the next two years due to cuts in its government subsidy.
Difficult decisions
The company's chief executive faced questions alongside Translink's chief operating officer, Philip O'Neill, and Barney McGahan, deputy secretary of regional transport planning at the Department of Regional Development (DRD).
The committee was told that difficult decisions may have to be made in order to balance Translink's books, which could include job losses, service reductions and further increases to fares.
The DUP chair of the committee, Jimmy Spratt, asked the panel if Translink's management board was "fit for purpose" given that it was predicting a deficit despite receiving "very substantial" government funding of £72m per year.
Ms Mason argued that Translink received the lowest level of government subsidy of any region in the British Isles and said that government funding per passenger was less than anywhere else in the UK or the Republic of Ireland.
"If funding levels were maintained, then service levels would be maintained. There is nothing about the organisation that is either failing or asking for more money than is currently given," she told MLAs.
Ms Mason also said that £12m had been saved in recent years through efficiency measures that were identified by independent consultants.
Problems
However, she said bus services in Northern Ireland were facing a "baseline funding cut of 23%" over the next two financial years.
She added that train services would receive a 2% increase in government funding in 2013/14 but would be cut by £4m the following year.
Mr McGahan told MLAs he did not see any evidence of poor financial management on the part of Translink and that, "taken in the round, the business is being run very well".
The DRD representative added that the company's decision to report a projected deficit of approximately £11m per year over the next two financial years demonstrated a "mature understanding" of the transport business and the "difficult decisions" which may lie ahead.
He said the firm was highlighting the problems that could be in store unless action is taken.
"Large scale cost reductions alone, equivalent to the forecast deficit, could only come from reductions in services," Mr McGahan said.
Salary
Several MLAs voiced concerns that employees were seriously worried about job losses.
Mr Spratt asked if planned changes to staff terms and conditions would also apply not only to those working "at the coalface" but also to people at the very top of the organisation.
Ms Mason said senior managers were now doing more work and she was not taking a pay rise on her £198,000 salary.
Regional Development Minister Danny Kennedy has previously said times were "challenging" for Translink and he would possibly have to ask Finance Minister Sammy Wilson "for some additional relief."