Ulster and Leinster rugby fans begin Heineken Cup final exodus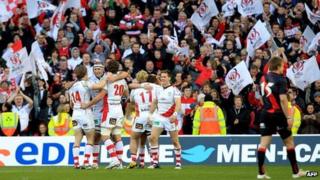 The mass exodus of more than 20,000 rugby fans from Belfast and Dublin heading to London has begun - with a long-distance cyclist leading the way.
With direct routes fully booked, some supporters are travelling to London via France and Holland, for the final of the Heineken Cup between Ulster and Leinster at Twickenham on Saturday evening.
Rugby fanatic Neil McConkey left his home in east Belfast on Tuesday and began cycling to the big game. The only long rest he will get on the 1,200-mile round-trip is the boat crossing to Liverpool.
Mr McConkey said he was expecting to be sore by the time he arrives at Twickenham on Saturday.
"I'm hoping some 'lubrication' will help ease the pain ahead of kick-off once I get to the match," he said.
With weekend flights to London from Northern Ireland - and the Republic of Ireland - fully booked, thousands of Ulster and Leinster supporters have been forced to travel to London by circuitous routes.
Sky-high prices - up to £500 return at the prime times - have also forced passengers to get out a map and look at destinations other than London.
Booked up
The obvious alternatives were booked up quickly - flights to Luton, Birmingham and Southampton with connections by train, bus, coach or hire car.
Those flights soon became unavailable or too expensive for most fans.
They began looking elsewhere around Great Britain and snapped up flights to Bristol, Cardiff, Liverpool, Manchester, Leeds, Newcastle, Glasgow and Edinburgh.
More exotic alternatives were also booked - flights to Paris and Amsterdam, followed by a Eurotunnel trip to London.
One fan who booked to fly to Paris on Friday said: "I'm going straight from the airport to the Eurotunnel. I don't want to take any chances with too much French wine and miss the game."
Ferries to England, Scotland and Wales from Belfast, Dublin and Rosslare will also be busy.
The players appreciate the extraordinary lengths to which the fans are going.
'Incredible'
Ulster hooker Rory Best told BBC News Online: "It's massive. It's incredible. Some people are even driving through the night.
"All of that happening in the current economic climate is very humbling," he said.
"These are our neighbours, our friends, our relatives that are making these journeys.
"It's a fantastic feeling to know we're going to have that support at the game on Saturday."
Leinster start as hot favourites against their closest rivals Ulster, but the Belfast-based team is injury-free and brimming with confidence.
For one set of fans, it is going to be a long journey home.
For updates on the big match build-up, follow @BBCMarkSimpson on Twitter.