Bangor girl's Olympic torch trip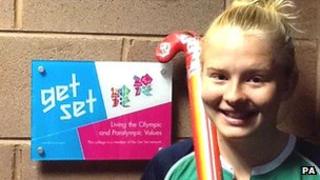 A girl from Bangor, County Down will join David Beckham to bring the Olympic torch from Athens to the UK.
Eighteen year old Chloe Brown was nominated by her college because she has represented Ulster at hockey.
The South Eastern Regional College student will attend the Olympic flame handover ceremony in Athens.
The flame will then be delivered to the UK ahead of its 70-day tour of the British Isles.
Chloe will form part of a larger delegation led by British Olympic Association President, the Princess Royal and former Olympic gold medallist Lord Coe.
Lord Coe, Chair of the London Organising Committee of the Olympics and Paralympic Games (LOCOG) said:
"We wanted to involve young people from across the UK in bringing home the Olympic flame.
"Their stories of personal achievement and contribution to sport echo the 8,000 inspiring torchbearer stories that will be shared from this weekend and over the next ten weeks in the build up to the start of the London 2012 games," said Lord Coe.
'Once in a lifetime'
Chloe is one of five young people picked to take part.
"I have been selected for this trip because through my sport and studies I show the Olympic values of excellence, friendship and respect," she said.
"Playing hockey has taught me these three important aspects."
The group has yet to meet David Beckham but hope to later in the trip.
"We have met Seb Coe. He's awesome, he's such a lovely bloke. He was great company.
"We know that Beckham is on the trip but we haven't met him yet."
Talking from Athens, Chloe described the trip as "a great opportunity and experience" but admits that despite two dress rehearsals ahead of Thursday's handover ceremony she is still "very nervous."
"I am really nervous, but I am looking forward to it. It's a once in a lifetime opportunity," said Chloe.
Once the ceremony has finished in Athens, Chloe and the rest of the group will travel back to the UK in a plane specially designed for the Olympic games.
The plane, named the Firefly is decorated with 250 litres of gold, white and yellow paint to create a flame-coloured effect.
The flame will remain lit throughout the flight, encased in a special box for the duration of the journey.
Once back in the UK, Chloe is expected to appear on BBC's One Show on Friday.