Pupils suspended over 'drugs find' at Castlederg High School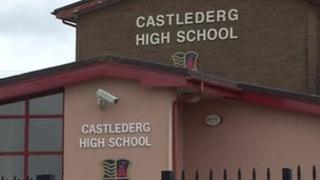 A number of pupils at a County Tyrone school have been suspended following allegations that drugs were found on the school premises.
The sixth form pupils at Castlederg High School have since been spoken to by the police. It is not known how many pupils are involved.
The PSNI received a report of youths having "illegal substances" on school premises on Monday.
The school said an investigation was under way.
However, it said it could make no further comment.
In a statement, the PSNI said: "The youths and their parents have been spoken to by police and a programme of drugs advice and awareness has been instigated by police and partner agencies."