MEP Nicholson 'will stand again'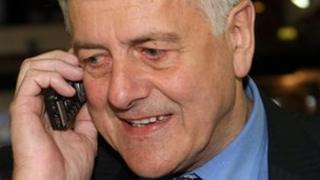 Jim Nicholson, UUP MEP, has said he will stand again for Europe and that he intends to sit the full term.
Mr Nicholson made his remarks at the Balmoral Show where he was accompanied by his party leader Mike Nesbitt, minister Danny Kennedy and MLA Robin Swann.
Mr Nicholson complained publicly, last month, that members of his party were briefing against him.
A newspaper had reported he would face a challenge for the nomination.
Mr Nicholson was quoted at the time as saying these were "faceless, gutless" people and he would take them on.
Mr Nicholson must still secure the party nomination in two years time.
There has been speculation that a deal would be agreed in which Mr Nicholson would stand down mid-term but he insisted he intended to remain for the full five year term if re-elected in 2014.
He was elected an MEP in 1989 and is one of three Northern Ireland MEPs.
Sinn Fein's Bairbre de Brun was elected in 2004. She announced earlier this month that she would be stepping down as an MEP. The Foyle MLA Martina Anderson has been put forward by the party as her replacement.
The DUP's Diane Dodds was elected in the 2009 election.