Heineken Cup final: Will Cavan and Monaghan rugby fans support Ulster?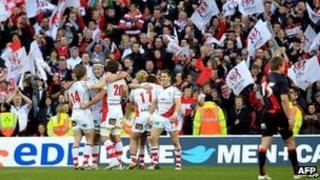 It is the first time the Heineken Cup final has been an all-Ireland affair, with Ulster taking on neighbours and reigning champions Leinster on Saturday.
While most of the Ulster support in Twickenham may come from Northern Ireland, there will be plenty of rugby people from the Republic of Ireland lending their voices to the choruses of 'Stand Up for the Ulster Men'.
The Ulster Rugby branch administers the game throughout the whole province of Ulster - including Donegal, Monaghan and Cavan. There are nine clubs in the Republic affiliated to the Ulster branch.
Just across the border, not far from Armagh city is the town of Monaghan - home to the only rugby club in the county.
It was here that I met club stalwarts John Taylor and Seamus O'Neill.
Mr Taylor is an enthusiastic Ulster supporter.
In fact, he is Monaghan RFC's representative to the Ulster Branch, and there is no doubt where his loyalties will lie.
"Being in Monaghan, we're all part of Ulster and we go down and support Ulster as much as possible," he says.
"Then there's the fact that Tommy Bowe is coming back home which is going to make it even better for us. We'll definitely be down in Ravenhill to watch Tommy playing."
I ask him if he's ever been mistaken for a Leinster supporter in Ravenhill because of his accent. With a wry smile, he is quick to correct me.
"Ah no. Monaghan accent? Get away. It's different to a Leinster accent totally... I don't think so. We fit in very well."
'Depends'
Mr O'Neill is a bit more circumspect when I ask him if Ulster would be his first choice when it comes to Irish provinces.
"It depends who they're playing," he explains.
In short, he says he and a few others in Monaghan RFC would support Munster first and foremost, then Ulster after that.
"But on Saturday I'll be nailing my colours firmly to the mast and I'll be supporting Ulster against Leinster," he says.
So why does Ulster not feature as his favoured team?
"Well, I went to Thomond Park for Ulster versus Munster, and when you see guys carrying the Northern Ireland soccer flag to a game, it doesn't enthuse you to follow it," he added.
"But we do feel welcome at Ravenhill. There's absolutely no problem there and we're taken in with open hands there. We're perceived as Ulstermen in that respect."
Further west along the road lies Cavan town. Geographically, it's closer to Leinster Rugby's headquarters in Dublin than it is to Belfast and Ravenhill.
County Cavan RFC lies in the middle of Gaelic football country and the oval ball code is certainly seen as a minority sport.
But the people I meet at the club are as passionate about their rugby as anyone who will be in Twickenham.
In some ways, Cavan RFC have to be - after all, at times they have to travel for four hours just to play a game.
The incoming club president, Frank Walls, explains that in the 1970s Cavan RFC competed in the Leinster branch of the Irish Rugby Football Union (IRFU).
"The club was reformed in 1977 and we still have members in the club who have won both the Towns Cup in Leinster, and leagues and cups in Ulster," he says.
"Originally, when the club was reformed, the games in Leinster were played on a Sunday and because of the Troubles, the lads found it easier to travel and play in Leinster.
"Until, that is, they made the mistake of going down and winning the Towns Cup and then Leinster said, 'bye bye'.
"So we have now since 1978 been playing in Ulster, with a lot of success and a lot of great experiences."
But as far as Mr Walls is concerned, that is ancient history and he says he has no split loyalties.
"Without question, we'll be supporting Ulster," he says.
Ladies team member Caroline O'Reilly is just as adamant about Cavan's support for Brian McLaughlin's men.
She has even worn the white Ulster jersey herself through her involvement in the Ulster ladies development squad.
"As a team, we'd be Ulster supporters all the way," she says.
"We had a bit of training last night and I said to the girls, 'so girls are we representing Ulster at the weekend?'
"And they said, definitely, SUFTUM (Stand Up For The Ulster Men) all the way.
"We're all for Ulster, on the ladies team anyway."