Early check-in warning for Ryanair passengers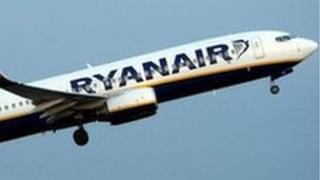 Passengers flying on the Irish airline Ryanair this weekend may be affected by essential online maintenance work.
A number of services are affected. Passengers will not be able to check-in online between 16:00 BST on Friday until 12:00 BST on Sunday.
Bookings cannot be made from 22:00 BST on Friday until 22:00 BST on Saturday.
Passengers who have not checked in before 16:00 BST on Friday face a £60 or 60 euros surcharge.
Flight changes will also not be possible from 22:00 BST on Friday until 22:00 BST on Saturday.
Ryanair said it had contacted all passengers travelling this weekend to make them aware of the maintenance work.
The airline said no flights would be affected.
Scott Kennerley, head of transport policy at the Consumer Council, said: "It is imperative that anyone travelling with Ryanair this weekend checks in online well ahead of time in order to obtain their boarding card as anyone failing to do so risks paying £60 to check in at the airport.
"As this situation has been caused by Ryanair, the Consumer Council has called on Ryanair to waive any charges for issuing boarding cards to those passengers who remain unaware of the website closure and do not get their boarding card printed on time.
"The Consumer Council is also asking Ryanair to ensure it has sufficient staff available at airports to assist passengers with check in to minimise disruption to passengers and services.
"Lastly, we would advise passengers to allow extra time to get through the airport."