Northern Ireland Events Company investigation to cost £1m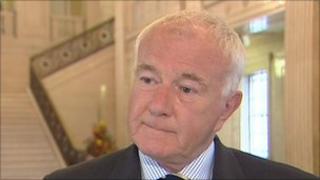 An investigation into the collapse of a Stormont quango will cost the public purse almost £1m and is taking five years to complete.
Auditors PricewaterhouseCooper are conducting a detailed probe into the defunct Northern Ireland Events Company, which was under the control of the Department of Culture, Arts and Leisure.
It began in 2008 and despite MLAs being told it had a two-year outside time limit, its target for completion is April 2013.
To date, it has cost £781,000, but the final bill is estimated at £900,000.
The new information was provided following an Assembly question from Strangford MLA David McNarry.
"This is a disgrace. It has been a blank cheque," he said.
The company was formed to promote headline-grabbing attractions and used taxpayer funds to attract pop concerts to Stormont and promote sporting events.
But it folded with debts of £1.6m after irregular loans and payments were uncovered in a confidential report.
There was also a break-down in accountability between the Department of Culture Arts and Leisure (DCAL) and the board it appointed to run the organisation.
After liaising with the police, who did not instigate any criminal investigation, DCAL asked the Department of Enterprise, Trade and Investment (DETI) to launch a more exhaustive probe.
It appointed PricewaterhouseCooper as inspectors who, under legislation, can potentially hand over findings to the Director for Public Prosecutions.
MLAs on the Culture, Arts and Leisure Committee were told by civil servants the investigation had an "expected outside time limit" of two years and when they voiced concern over costs were informed no estimate could be provided at that time.
But the target for completion has shifted considerably and at large expense.
Mr McNarry, who sat on the CAL committee at that time, added: "We will have spent a million pounds finding out how we lost a million pounds.
"It is six years since the Events Company went under and this is not near completion and the question is after all that time what will happen?"
The Department of Enterprise said the investigation was proving "significantly more complex" than first thought and as a result it was impacting on its cost and duration.
It said the initial cost projection was forecast "at not less than £250,000" and added that, where appropriate, it had a duty to investigate alleged wrong-doing.