DPP Barra McGrory challenges 'lenient' underage sex sentence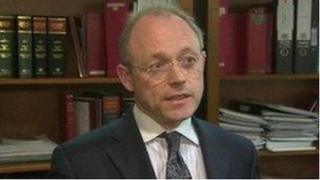 The NI Director of Public Prosecutions has begun legal action to have a tougher sentence on a man in his 20s who made a 15-year-old girl pregnant.
The man pleaded guilty to unlawful sex with a child as he was about to go on trial at Omagh Crown Court in January.
He previously denied sleeping with the girl, who later had an abortion. DNA tests confirmed he was the father.
Barra McGrory QC argued in the Court of Appeal that the two-and-a-half year suspended jail term was unduly lenient.
The man, who cannot be named to protect the girl's anonymity, met her at a pub in 2010 where she was on a night out with her cousin.
She was bought a number of vodkas before going back to his home in a taxi.
After taking more drink there they had unprotected sex.
In what is believed to be the first challenge brought in person by a Director of Public Prosecutions, Mr McGrory said there were a number of aggravating factors.
Mr McGrory told the court the man must have known he was with a child under the influence of alcohol.
"At least six vodka and cokes would affect any individual, never mind a 15-year-old child," he said.
Following her abortion, and faced with the prospect of a trial when the man at first pleaded not guilty, the girl was diagnosed with post-traumatic stress disorder, the court heard.
'Aggravating feature'
Mr McGrory said: "That denial is a significant aggravating feature because it questions her integrity and (suggests) that she is making a false accusation.
"By taking the course he did he was effectively saying 'Whoever made her pregnant, it wasn't me'.
"That would mean she had sexual relations with somebody else."
He said these factors warranted a heavier sentence than 30 months, suspended for three years.
It emerged during the Friday's hearing that defence and prosecution barristers had met the trial judge in chambers.
The court was told that the issue of sentencing was not discussed.
Lord Justice Coghlin, sitting with Lord Chief Justice Sir Declan Morgan and Lord Justice Higgins, suggested it looked as if there had been "a very big nod and a wink" involved.
Senior defence counsel, James Gallagher QC, argued that the only issue was whether his client believed the girl was aged 16 at the time.
He said the accused claimed he had thought she was aged about 18, adding that his initial denial was due to him being in another relationship.
Mr Gallagher also claimed the defence would have grounds to challenge the severity of the sentence had it not been suspended.
Judgement in the appeal was reserved.