Heineken Cup final: excitement builds among Ulster and Leinster fans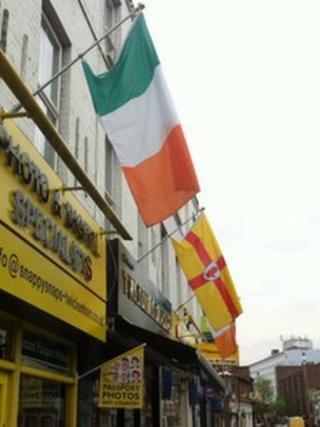 As Ulster and Leinster rugby fans descend on Twickenham for what promises to be an epic battle in the Heineken Cup final, the BBC's Karen Atkinson catches up with some of those who arrived early to soak up the atmosphere.
Saddle sore but happy, Neil McConkey enjoys a well-earned pint after cycling hundreds of miles from Belfast to Twickenham.
Why you might ask? It was to raise money for Sport Relief but it also shows the lengths an Ulster man will go to see his team chase sporting glory.
So can Brian McLaughlin's men see off Leinster, lift the Heineken Cup and party like it's 1999 ?
Fighting talk
"I certainly think they've got the belief and the self-confidence to turn over the reigning champions." says Mr McConkey.
"Leinster know how good they are, Leinster know that they're favourites, but Leinster also know that no team stays champions forever."
That's fighting talk from the Lance Armstrong of the Ulster supporters' fraternity.
However, it's a Leinster man who thinks this cup final will be closer than a sweaty scrum.
Dave Cahill heads the official Leinster rugby supporters club.
As he and other volunteers put thousands of team flags under the seats at Twickenham ahead of the big match, he tells me no Leinster player thinks that this game is "in the bag".
"We know what a good side Ulster is," he says.
"The quality of player 15 through to one is unreal.
"Leinster will be going into the game aiming to be at their very best, because anything less than that and Ulster will end up champions."
In a quiet pub in a quiet corner of Twickenham, Jeff Phair takes a sip of his pint and relishes what could lie ahead for his beloved Ulster men.
He has lived in England for more than 20 years, and absences from Ravenhill do indeed make the heart grow fonder.
"I tend to get back twice a year, usually in August, for the pre-season friendlies," he says.
"At the moment, we have the stronger front row and the South African players right through the spine of the team.
"Leinster has had its time, now it's ours."
So cometh the hour at 5pm on Saturday, cometh the Ulster men and a gladiatorial contest where there can only be one victor.