Bellaghy teenager died 'protecting sister'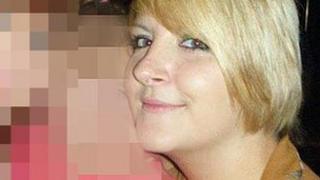 A 26-year-old man has been charged with murder and attempted murder over a shooting in County Londonderry at the weekend.
Lauren O'Neill, 18, was shot dead in Bellaghy on Saturday morning.
Her 21-year-old sister Brenda remains in a critical condition in the Royal Victoria Hospital in Belfast.
The man who has been charged is due to appear at Londonderry Magistrates' Court later.
Two children were in the house, in William Court, at the time of the shooting.
Deputy First Minister Martin McGuinness visited the family over the weekend.
"Brenda has suffered very grievous injuries which will remain with her for the rest of her life," he said.
"I think we're all very comforted by the fact that she has come through the initial stages.
"She still has a battle ahead of her, but we all hope and pray that she will come through this."
Parish Priest Father Andy Dolan saw Brenda in hospital on Sunday night.
He said there were signs of improvement in her condition.
"That will be a source of comfort and strength for them as they try to cope with the death and as they look at hopefully Brenda making a recovery to the fullness of life again," he said.
'Woken by shots'
A neighbour, Sean Scullion, said he prayed for Brenda's recovery.
"I was woke up by the three shots that were fired and then the alarm came that something had gone badly wrong," Mr Scullion said.
"The deceased was Lauren and Brenda had actually made her way out of the house into another house and then the paramedics came and took it from there."
Mr Scullion said the killing had shocked the community.
"We're only moved in here about two years this site's just newly opened and everybody's quite close," he said.
"It's just deeply saddened the whole village as you can understand everyone just shaken at the moment. My heart goes out to the family."
'Protecting sister'
Fr Dolan said the teenager died trying to protect her sister.
Fr Dolan told BBC Radio Ulster: "When Brenda was under attack, Lauren dived in to save her and in the process lost her own life.
"I'd say they were close in life and in death couldn't be closer."
A man and a woman earlier questioned on suspicion of assisting an offender have been released.