Girdwood Army base proposal gets go-ahead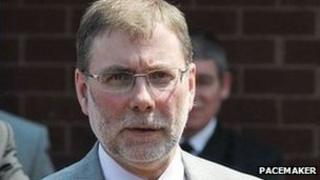 There has been a breakthrough in the long-standing deadlock between the Stormont parties over the development of a former army barracks in north Belfast.
The former Girdwood army barracks site on Belfast's Crumlin Road was acquired by the Social Development Department from the Ministry of Defence six years ago.
However, disagreements about plans for social housing delayed the start of redevelopment.
On Monday, the Department of Social Development said the plan would deliver a range of "shared development opportunities" to support social, sports, economic and residential development.
The site will provide a multi-use pitch for football, gaelic and rugby; an indoor sports arena; a commercial building to house a range of business and social economy enterprises; and, residential development.
At the heart of the site is a community hub with the potential to provide a wide range of facilities.
Social Development Minister Nelson McCausland said they were "ambitious plans" to regenerate Girdwood.
"They said that this area was too divided to ever come together around an agreed plan for shared development at Girdwood.
"Today, I'm glad to say that the political representatives in this area have united around a common purpose to bring regeneration to this area. We're sending a powerful message that positive change is coming to north Belfast."
Last year, then Social Development Minister Alex Attwood of the SDLP unveiled plans for the building of 200 homes on the former Girdwood site.
Mr Attwood said the £20m investment would be one of the "biggest new social and affordable housing developments in NI in recent years".
BBC Northern Ireland's political editor Mark Devenport said the 27-acre site was first taken over by the Department of Social Development in 2006.
"A master-plan was drawn up in about 2007 which put a £230m price tag on creating a community hub," he said.
"The master-plan acknowledged that the issue of housing was extremely contentious, because unionists in particular were worried that if you had social housing there, that it would stop it being a neutral area in north Belfast and might open up a new interface and change the electoral arithmetic.
"In March last year when then social development minister Alex Attwood approved 200 homes for the site at the cost of £20m the DUP denounced it as deeply destabilising.
"When the DUP's Nelson McCausland came in and took over the department he stopped it from going ahead."