Ballymena hit hard by economic downturn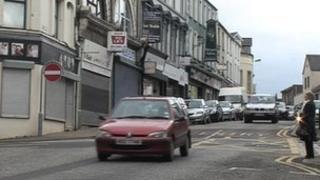 Like many towns across Northern Ireland, Ballymena has been hit hard by the economic downturn.
Once the booming heart of the town, Church Street now has many empty units.
It is not alone. Northern Ireland has a higher percentage of empty shops than anywhere else in the UK.
Figures released by the British Retail Consortium show that 16% of retail space in Northern Ireland is vacant.
The finance minister, Sammy Wilson, said he has no plans to give any special relief to town centres, but there are calls for him to reconsider that position.
Amanda Bennett who is the development manager in Ballymena said the rates burden was making things particularly difficult for traders there.
"One of the problems that we struggle with is that the rates haven't been reviewed for some time and particularly the traders on Church Street are paying very high rates," she said.
McKillen's shoe shop is an independent business which has been operating on Church Street for nearly 90 years.
Manager Thomas McKillen said the current trading conditions were difficult and urged politicians to do more to help.
"High rates bills make it difficult to encourage retailers to pick up and come into these units," he said.
"There are a number of other issues such as car parking which are being looked at.
"We, as retailers, feel that possibly the politicians don't always understand what it's like to be on the face of things."
A casual walk through the town reveals a retail landscape which has significantly changed in a short space of time.
Peacocks and Houstons are just two of many shops which have pulled the shutters down and put "To Let" signs up.
Birthdays in the Tower Centre is soon to be added to that list. The Tower Centre is a shopping mall which continues to operate but has been repossessed by the former Anglo Irish Bank (IBRC).
There has been one glimmer of hope in Ballymena with the announcement that the family-run restaurant Montgomery's is to reopen.
It closed down suddenly in March after operating for 80 years.
The new restaurant will be run by two sons of the previous owner, but it will carry the same branding and will be largely unchanged.
Richard Montgomery said the move had given the town 30 jobs and a much needed morale boost.
"We've taken a lot of advice... we always knew the restaurant was profit making and it was just because we lost income from the two other floors that we had to close," he said.
A review of rates is due to take place in 2015.
The finance minister has said the small business rate relief scheme and temporary reductions for those who take on retail space that has been empty for a long time were some of the ways his department could help.
However, that was not enough for North Antrim MP Ian Paisley whose constituency office is in the town.
"What we've got to recognise is that if we don't take steps to ensure that the rates are at an appropriate and fair level we are going to hear the sound of shutters going down and not coming back up.
"We have got to start looking at how rates are measured."
Ballymena is still a bustling place, but like in many other towns across Northern Ireland there are fears that the heart of the place is dying and not enough is being done to save it.