The Dubliners: The ultimate Irish rovers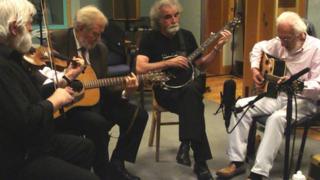 "It's too late to stop now." Those were the words of legendary musician Barney McKenna.
He died last month, 50 years after he first met Ronnie Drew, Luke Kelly and Ciarán Bourke in O'Donoghue's pub on Merrion Row in Dublin.
Together with John Sheahan they were to become synonymous with Irish folk music across the world. They were the original Dubliners.
Much has changed since then: John is the only surviving member of that first band.
He is joined now by Seán Cannon and Eamonn Campbell, who have been with him since the 1980s.
The newest recruit, Patsy Watchorn, previously of the Dublin City Ramblers, has been there for eight years.
They were all ready, alongside Barney, to embark on the group's 50th Anniversary tour. When he died suddenly, a difficult decision had to be made about whether or not to go ahead.
"It took a lot of pondering and thinking," said John.
"When you've played together with somebody like that for so many years, it's like losing a member of the family, like losing a brother.
"We got great encouragement from all the people abroad whose tours we were about to do. So we went there, we went to Scandinavia recently and had a wonderful tour and a great welcome".
'Filling theatres'
It is too late to stop now.
And while much has changed, so much remains the same: the music; the songs; the response.
Patsy said the warmth with which they are still received has astonished him.
"I couldn't believe the audience reaction and how well they knew all their tunes and their songs," he said.
For him, it was a dream come true to be asked to join the group. He "idolised" the originals.
The audience, however, has changed slightly.
"Most of them are younger than us," said Sean. "It wouldn't be hard really."
"They've got a lot of energy and they've travelled for miles to be there...people turn out still and fill theatres.
"A part of it I think is nostalgia... there are older people there, as well, who grew up with the Dubliners, and then their children are brought up listening to the LPs, or CDs and DVDs as it is nowadays - so they become fans by proxy," he said.
If you are ever thinking of applying to be a Dubliner, there is just one question to ask: Do you have to come from Dublin to be in the group? No.
Do you have to have a beard? Yes.