Sudden closure of Belfast's Lansdowne hotel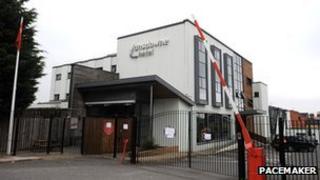 A number of people who were booked into a north Belfast hotel have said they were mystified after it closed its doors on Monday without notice.
It is thought around 30 people work at the Lansdowne Hotel on the Antrim Road.
There are signs outside the hotel which say it is closed due to a health and safety issue.
Another sign on the gates refers customers to a firm of chartered accountants which specialises in tax and insolvency.
Matthew Armstrong whose engagement party was due to take place this weekend said he was given the news by a member of hotel staff.
"He just says you've a party coming up on Friday night," Mr Armstrong said.
"He says we've gone into liquidation and I'm ringing round telling people everything's been cancelled."