McKeown trial told injury was 'only cause' of bleeding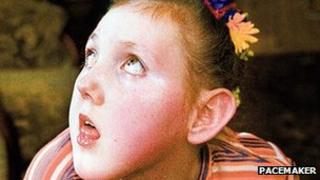 The Rebecca McKeown manslaughter trial has been told that the teenager had started to bleed due to a laceration injury, and there was no other cause.
The state pathologist for Northern Ireland, Professor Jack Crane, carried out a post mortem examination on the disabled teenager in March 2001.
He told the court that she died from pneumonia but blood loss from the laceration was "a significant contributing factor" to her death.
Her grandparents deny her manslaughter.
David and Sarah Johnston, who are 88 and 86, and from Carwood Drive in Newtownabbey, are also charged with child cruelty.
The 14-year-old died in hospital five days after the elderly couple had looked after her.
Giving evidence at Belfast Crown Court on Wednesday, Professor Crane said, in his opinion, Rebecca was not menstruating in the days before her hospitalisation and death.
A prosecuting lawyer asked the professor what had caused the bleeding before GP, Dr Mary Donnelly, had examined Rebecca at home.
The pathologist confirmed that he had found no cause for the bleeding other than the laceration.
Professor Crane also said that a bruise on Rebecca's knee could have been caused by the knee being "forcibly grasped".
Under cross-examination that it was possible Dr Donnelly had caused the injury to Rebecca when she examined her at home.
But he said that was not the only possibility.
He said it was also possible that the injury had already been inflicted and that by removing a blood clot, Dr Donnelly had caused the bleeding to begin again.
A defence lawyer challenged Professor Crane on his earlier evidence that the blood did not come from a period because menstrual blood does not clot.
Professor Crane said he would try to find medical literature which would back up his testimony and would be happy to conceded if he was wrong.
Professor Crane will continue his evidence on Thursday.