Major development in Newry gets planning permission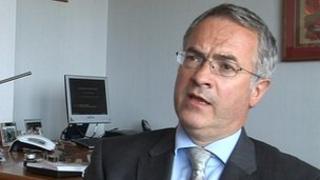 New jobs, shops and housing will be created as part of a "very significant" development in Newry, the Environment Minister Alex Attwood has said.
Mr Attwood confirmed he has granted planning permission which will "transform" the Greenbank Industrial Estate on the Warrenpoint Road.
It includes plans for retail units, cafes, restaurants, a covered mall, an enterprise centre and 50 apartments.
The minister said his decision was a "tremendous boost" for Newry.
He claimed that the development could create up to 1,130 new jobs and would bring "significant economic and social benefits" to the city.
"This is especially welcome given the economic downturn," Mr Attwood said.
The 50 apartments are to be used for social housing.
The retail space would include a food "superstore" of 8,826 square metres.
The Department of Environment spokeswoman advised that the new jobs would be created "primarily by the food and non-food retailers associated with the proposed development and the enterprise/innovation centre".
Demolition
The developers, Birmingham-based Parma Investments Ltd, submitted the application in November 2009.
It is understood that Parma Investments is controlled by the Louth-based businessman Larry Goodman.
The company intends to demolish existing buildings on the industrial estate before construction begins.
Mr Attwood said he was "very conscious of the fact that there are jobs associated with the existing business on the site".
However, he said efforts were being made to acquire an alternative site in Newry where the firms could be relocated.
The minister added that the Greenbank development was just one of about 50 large planning applications - known as Article 31s - on which he intended to make decisions in the coming months.