Suspicious object near Creggan shops in Derry was hoax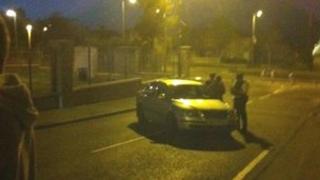 A suspicious object which led to homes being evacuated in Londonderry has been declared a hoax.
Army bomb experts were sent to the scene near Creggan shops at 21:45 BST on Wednesday.
Residents were allowed to return to their homes at about 02:00 BST after a controlled explosion was carried out.
Police have appealed for anyone with information to contact them.
Speaking on Wednesday evening, SDLP MLA Mark H Durkan said a "substantial number" of families had to endure "enormous stress" as a result of the alert.
"There are many, young families, particularly, here with children, who have been taken from their beds and sent to safety," he said.
"We do not want our children growing up in an environment where they have to become normalised to this sort of activity."