Alliance pulls out of Stormont's 'shared future' group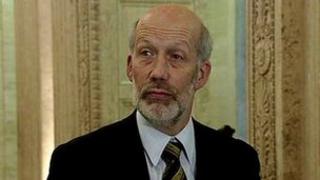 The Alliance Party has pulled out of talks at Stormont aimed at promoting better community relations and greater integration in Northern Ireland.
Alliance leader David Ford has accused the DUP and Sinn Fein of attempting to create "an illusion" that they were working towards a shared future.
Mr Ford said there had not been enough progress on schools, housing or flags.
The Alliance move was criticised by both DUP First Minister Peter Robinson and Sinn Fein's Martina Anderson.
"Throughout this process there has been political sniping by David Ford, along with no serious attempt by his party to achieve a shared agreement on good relations," Mr Robinson said.
"When the Alliance party claims of being the party of consensus and finding agreement were tested, they failed.
"All boycotter Ford and the 'We won't build a consensus' party have done is to demonstrate political immaturity, and an inability to work with anyone but themselves."
Sinn Fein's Ms Anderson said Alliance's position on community relations was "very much a minority position".
"They are politically wedded to the industry and quangos who have been working in this sector at great cost to the public purse for decades," she added
"The Alliance Party do not have all the answers when it comes to community relations."
'Further segregation'
Earlier, explaining his party's move Mr Ford had said that a redevelopment plan for Girdwood in north Belfast would result in "further segregation of housing".
The redevelopment of the former army barracks in the north of the city has been delayed for years because of disagreements over the allocation of new housing between unionists and nationalists.
Earlier this week, the DUP Housing Minister Nelson McCausland announced there had been a breakthrough, but details of the scheme have remained vague.
Mr Ford said his party has seen the revised plans for the Girdwood site which were "agreed to by all parties other than Alliance".
He described it as "a classic example" of maintaining division between Catholics and Protestants.
"This plan is about the further segregation of housing under a purely notional framework of sharing," he said.
He has written to the First Minister Peter Robinson and Deputy First Minister Martin McGuinness to notify them that his party is withdrawing from the five-party working group.
The group was set up last year to find a replacement for the Cohesion, Sharing and Integration (CSI) strategy which had been heavily criticised.
Progress on community relations was a key demand from Alliance before Mr Ford agreed to take the politically sensitive job of justice minister two years ago.
Lost faith
On Thursday, the Alliance leader said it was clear that other parties were not prepared to commit to targets on integrated education, segregated housing or the removal of illegal flags and emblems.
"We have now lost our faith in the integrity and value of this process," he said.
"From now on, we believe that the debate about how we achieve a genuinely shared future should take place in public, not behind closed doors."
Mr Ford also rejected claims that Alliance had delayed the production of a revised CSI strategy, insisting that his party had "participated fully, attending every one of the meetings of the group".