Sinn Fein's Gerry Kelly defends Girdwood housing plans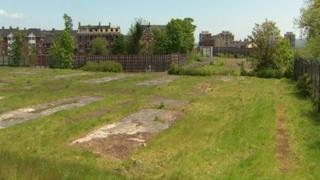 Sinn Fein's Gerry Kelly has defended his party's role in agreeing a controversial plan to redevelop a former army barracks in north Belfast.
The regeneration of Girdwood Barracks has been delayed for years due to disagreements over housing allocation between nationalists and unionists.
A new plan, which was announced on Monday, has been criticised over fears it will maintain sectarian divisions.
Mr Kelly said nobody was "dictating" housing allocation on the site.
The North Belfast MLA said: "We now have a masterplan which is workable - which is the important thing - within the rest of the Girdwood site".
Not invited
The 27-acre site was first taken over by the Department of Social Development in 2006.
The new masterplan includes two separate blocks of new housing, one situated in a predominantly Prostestant area and the other - at the opposite end of the site - in a traditionally nationalist area.
It has been criticised for its lack of detail on housing allocation, and journalists were not invited when representatives from Sinn Fein, the DUP, and the SDLP posed for photographs with their plan at the site on Monday morning.
Speaking on BBC Radio Ulster's Nolan programme, Mr Kelly said: "We deliberately are not talking about numbers of houses."
"What we need to do is talk it out with the community and that talking is ongoing," he explained.
There are significantly more Catholics than Protestants in the north Belfast area who have been assessed as in urgent need of housing.
The latest figures from the Northern Ireland Housing Executive show that 95% of new build housing in north Belfast is required by Catholics.
Mr Kelly said it was still Sinn Fein's policy and the policy of the Stormont executive that housing should be allocated on the basis of need.
However, he asked: "You can't on one hand argue for integrated housing and then say that there is no need for Protestant housing, because how do you get integrated housing and new build housing if Protestants aren't involved?
"It's a contradiction in terms," the Sinn Fein MLA said.