What makes a good royal souvenir?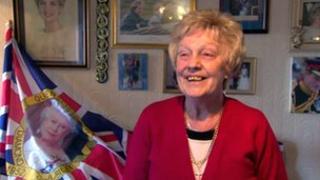 Sally Watts reckons she is the Queen's 'biggest fan' and her huge collection of royal memorabilia decorates her living room from ceiling to floor.
Her love of the Royal Family is so well known that she was asked to perform the leading role in an amateur production celebrating the Queen's reign.
"They said they wanted somebody to play the Queen and that I would be good for the role because they don't know whether to bow or salute when they come to my house," said Sally.
Among some of Sally's most precious items in her collection are letters from the Royal Family thanking her for her well-wishes.
"I wrote to the Queen on her Golden Jubilee. Never in a million years did I think I would get a response, but I did.
"So after that when her mother was ill, I wrote to her," said Sally.
For Sally and other collectors there have been tea towels, spoons, even thimbles on sale to commemorate royal landmarks before.
Now that the Queen celebrating her Diamond Jubilee there is a whole new range to choose from - from the obvious red, white and blue Jubilee flags on sale in shops like the Union Jack shop in east Belfast to more subtly decorated aprons and tea towels.
No matter what your taste, manufacturers and retailers are doing a roaring trade in all things Jubilee.
Quality and taste
Crown-shaped air fresheners sit alongside special Jubilee mugs, playing cards, pencils and more.
Proprietor John Keenan expected demand to be high.
"The big sellers are the flags. There are quite a few new flags out and people like to decorate the streets. The bunting too is a big seller.
"The Queen has been on the throne now for 60 years and it's a big event in everybody's life."
The Ulster Weavers company in Holywood, County Down have been supplying kitchen textiles to the royal family for over two decades.
They are one of the few holders of a royal warrant in Northern Ireland.
For around 800 years the monarchy has issued royal warrants to suppliers of the royal household, but only after five years of sterling service.
They are considered a mark of quality and taste.
Sheryl Sergant from the Ulster Weavers said that having the warrant was "special" and a "highly prestigious honour."
"It reassures customers that Ulster Weavers are a dedicated and dependable company offering the highest quality products."
Ulster Weavers remains a family business after more than a century of trading. Having the royal warrant has been good for overseas business.
"We do have a worldwide reach and having links with the royal household certainly appeals to the overseas and tourist market.
"At the moment the demand is coming from everywhere. From as far afield as America and Singapore as well as a lot of trade in the UK and Ireland."