Culture department not bidding for rare Ulster proclamation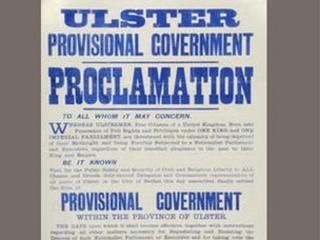 The Department of Culture has said there are no plans to bid for the only known copy of an historic document.
TUV leader Jim Allister wants the culture minister to buy the 1913 Ulster Proclamation of a Provisional Government that is being auctioned in London next month.
"The Public Record Office NI has no plans to bid for this document. Any procurement decision by National Museums would be a matter for its Board of Trustees," said a department spokesperson.
The proclamation, dated 24 September 1913, takes the form of a poster declaring the formation of a provisional government with the proviso that it would not take executive power until needed to resist the formation of a nationalist government in Dublin.
The previous day, 23 September, unionist leader Sir Edward Carson had persuaded 500 delegates to the Ulster Unionist Council to endorse the proclamation as part of resistance to the Irish Home Rule Bill then passing through parliament.
The previous year, nearly 500,000 people had signed the Ulster Solemn League and Covenant in opposition to the Home Rule Bill.
The proclamation will be auctioned at Bonhams on 12 June. It is expected to fetch between £20,000 and £30,000.
"If this is the only copy as it's claimed, then I think it would be shameful if such a milestone document, in terms of the evolution of Northern Ireland, was not acquired officially by the government of Northern Ireland and retained," Mr Allister said.
The Home Rule Bill was eventually enacted, but set aside for the duration of the First World War. The island was partitioned in 1921, with six of the Ulster counties opting out of the Irish Free State and establishing Northern Ireland.