Will businesses be able to cash in on the Irish Open?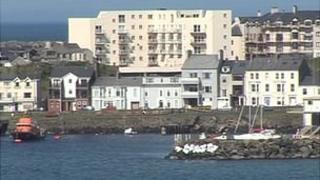 Thousands of people will head to the north coast for the Irish Open golf tournament at the end of June.
However, it seems many spectators do not intend to stay overnight.
There are still rooms available in some bed and breakfast establishments situated near the Royal Portrush Golf Club.
Gwynne Fletcher who runs the Albany Lodge B&B said he was surprised that rooms had not been booked up this close to the event.
"There's not a lot of interest, like what I thought there should have been. The phone hasn't gone off the Richter scale, but I think closer to the time there should be a few more phone calls," he said.
There are not a lot of hotels on the north coast and there are some in Portrush that are fully booked during the Open.
There is an abundance of self-catering or rental properties in the area.
But, according to estate agents like Philip Tweedie, fewer than expected have been booked during the tournament.
"There hasn't been a great uptake from the private individual wishing to rent for the week," he said.
"We do envisage that might change closer to the time, but probably the expectation, from our perspective, is that a lot of the ticket sales have been Northern Ireland-based and therefore people may be considering just coming up and down on the day."
But the question is will those day visitors spend money in the area?
Some traders fear that park-and-ride schemes to control traffic may divert business away from the town.
There are also concerns about the possibility of a no-readmission policy, meaning that ticket holders will not be allowed to re-enter the course once they have left.
When contacted by the BBC, the European Tour which organises the event, was not able to clarify if such a policy would be implemented.
However, Don Wilmont from Causeway, Coast and Glens Tourism said that the Irish Open would be of great benefit to Portrush, in both the short and longer term.
"The event will be a wonderful boost to the economy," he said.
"But even more importantly - there will be a legacy from the event. We're working very hard to establish this region as the top region for golf in the island of Ireland and certainly the Irish Open will be a big plus for us in that respect."