One in 10 mortgages in Irish Republic 'in arrears'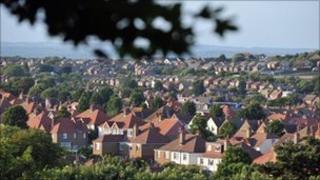 About one in 10 residential mortgages in the Republic of Ireland is now in arrears of more than 90 days, according to the latest Central Bank figures.
The figure is generating a great deal of concern and anger that not enough is being done to help hard-pressed homeowners.
That anger was visible earlier this week at the AGM of Permanent TSB bank, when some mortgage customers expressed their frustration at the high interest rates they are being charged.
They said they were already struggling and the interest rates were pushing them over the edge.
And they are not alone - there are now about 80,000 homeowners struggling and stressed.
Frank Conway from the financial advisory agency, Moneycoach.ie, said many families had now reached breaking point, having used up their personal savings and the goodwill of family members.
"I think there's a growing sense now that with rising utility costs, rising private health care costs, the introduction of a property tax... that you see that squeeze ongoing all of the time and it makes life very difficult for people," he said.
A year ago, about 7% of mortgages were in trouble, now it is 10%.
Those statistics do not include the huge number of buy-to-let mortgages, loans from local housing authorities, or those who are in arrears of less than three months.
Paul Joyce from FLAC, the free legal advice centre, estimated that if all those factors were included, there could be as many as one in four mortgages in some difficulty.
And the only way out for many of them is some form of personal bankruptcy.
"They've had a severe income shock, they are living in houses that were completely over-valued, and, therefore, they borrowed far too much money to purchase those properties," he said.
"A lot of them have significant other personal debt and simply don't have the capacity to meet it. The problem we're going to have here is keeping people in their family homes."
Tipperary woman Trish Burnett has had her home repossessed.
She and her husband fell behind on their mortgage with a sub prime lender in 2007.
By the end of 2010 they had lost their home. It is an experience she describes as "horrific" and one that still rankles.
"When I see my brothers and sisters and they're all in their family homes, I sometimes feel like I'm the black sheep of family; not that any of them ever made me feel like that, but I feel it, deep down, that I've let myself down, that I lost everything," she said.
The governor of the Central Bank, Patrick Honohan, is worried that situations like the one Mrs Burnett is facing could spread rapidly.
He said this week that the banks were "overwhelmed" by the scale of the problem, and the only way out of this mortgage crisis was job creation.
But Mrs Burnett does not have much hope that that will happen any time soon.
She said she knows a lot of people who are barely surviving.
"People are hanging on by skin of their teeth in houses and I don't know how they're doing it," she said.
"The biggest thing is they're trying to pay their mortgage every month and they can't live a life.
"They can't even put food on the table. I can see us becoming a country like Greece, I really can."