NI tenant deposit scheme progress 'before summer'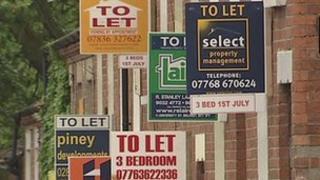 Plans for a new scheme to prevent landlords from keeping hold of tenants' deposits without good reason will be laid before Stormont shortly.
The Department of Social Development (DSD) has confirmed to the BBC that draft legislation will be introduced before the summer.
Similar schemes have been in place in England and Wales for a number of years and Scotland is bringing one in.
The move has been welcomed by Citizens Advice and the Housing Rights Service.
Dispute
In a statement, the DSD said draft legislation was "nearing completion" for a scheme in which tenants' deposits are protected by being paid into a scheme by their landlord.
"At the end of a tenancy, the deposit can be repaid immediately but where there is any kind of dispute over the amount due the scheme will provide independent dispute resolution at no charge," the statement said.
The department said it was one of a number of initiatives which were being introduced to improve standards in the private rented sector.
It said work was ongoing to establish a register of landlords in Northern Ireland.
The DSD also confirmed that local councils will be "given new powers to fine and/or prosecute private landlords who do not protect tenant's deposits in line with the law".
Bureaucratic
Sarah Corrigan, from the Housing Rights Service, said the issue of withheld deposits was one of the main reasons that tenants contacted their advice line.
She told BBC Radio Ulster's Talkback programme that her organisation would "welcome any kind of scheme that is both going to support landlords and also protect tenants".
However, Declan Boyle from the Landlords Association said the scheme was unnecessary and could be "bureaucratic" and "cumbersome".
Mr Boyle said most tenants and landlords enjoyed good working relationships but added that tenants who disputed the retention of their deposit could pursue the matter in the small claims court.
He said that sometimes "a tenant might think there is no reason - and there is a reason - and that's where the magistrate in the small claims court, he or she can adjudicate on that issue."
Paul Callaghan, of the Citizens Advice Bureau, told Talkback that many tenants on low incomes struggled financially when their deposits were withheld, especially those in reciept of housing benefit.
A consultation on the scheme in Northern Ireland was first announced in 2009 by the then Housing Minister, Margaret Ritchie.