Moneyscalp Forest fire 'may have been arson'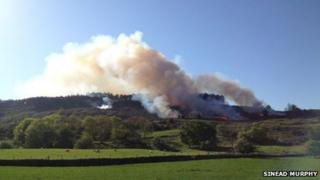 A large fire that spread across 12 acres of the Mourne Mountains may have been started deliberately, the fire service has said.
Seven appliances were sent to the blaze at Moneyscalp Forest, near Bryansford in County Down, on Friday night.
More than 40 firefighters managed to prevent it spreading to mature forest.
The fire flared up in high winds on Saturday, but two fire engines and 13 firefighters brought it under control.
Damage
Area commander John Allen said: "This is costing in terms of money, it is costing in terms of damage to the environment.
"I would ask those who are engaged in deliberate fire-setting to stop.
"You are endangering the lives of our firefighters, you are endangering this environment."
Mark Parker of the Forest Service said such fires posed a huge risk to wildlife.
"This whole area is inhabited by many species of birds, and their nests with young birds and eggs in them are at risk from this sort of fire," he said.