Hot topics and cool drinks at Sinn Fein conference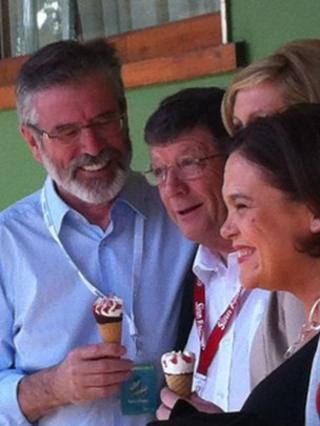 Mention Greece and Ireland in the same breath and you might assume we are talking about austerity.
But this weekend as Sinn Fein delegates gathered in Killarney it felt hotter than Athens.
Delegates ambled around in shorts and t-shirts.
The scripts they had prepared concentrated on concerns about youth unemployment and emigration.
But the most immediate preoccupation around the ard fheis was ensuring a plentiful supply of cool drinks and ice cream.
Two parallel gatherings appeared under way.
The northern focus was on dialogue, with Sinn Fein's chair Declan Kearney talking about his discussions with Protestants and Unionists such as the former Methodist President Harold Good, the loyalist Jackie McDonald, the former Alliance leader Lord Alderdice and Alan McBride whose wife died in the Shankill bombing.
Were these talks about reconciliation or building a United Ireland? Sinn Fein figures appeared happy to respond with "creative ambiguity".
On the theme of dialogue, Martin McGuinness threw in an offer to talk to dissident republicans about what he called their pathetic and futile campaign.
One dissident group accused the Deputy First Minister of engaging in empty rhetoric, claiming a previous talks offer had not been followed through. Gerry Adams, however, insisted his party's initiative was genuine.
In parallel with these northern themes, Sinn Fein was keen to ram home it's "Vote No" message just days ahead of the European fiscal treaty referendum.
Gerry Adams found himself hampered, however, by the Irish Republic's tight broadcasting rules which dictated that for every second he pushed the "No" cause the "Yes" campaign would get a corresponding right of reply.
With Giovanni Trapattoni's team taking to the field for a pre-Euro friendly as the ard fheis took place, sport provided a recurrent backdrop.
The Sinn Fein senator Kathryn Reilly performed a striking Gaelic striptease, peeling off GAA tops to illustrate the teams who could not field full sides because their players had emigrated.
Then Councillor Matt Carthy name checked the Republic's northern players James McClean and Darren Gibson and TD Sandra McLellan demanded the creation of an all-Ireland soccer team.
Safe to say the response of some Northern Ireland fans to this initiative via Twitter was somewhat less polite than the conversation republicans are embarked upon with the likes of the Reverend Harold Good.